TeddyBoy's Family
---
s'nE'dE'r of my homet
When we received our first OES, we were surprised by how big he was.
We knew he was going to be a lovely dog from the photograph we saw, but we couldn't tell how big he was.
When I think about, after all, he was already four months old!! (He should be a big dog!!)

At that time, we weren't expecting to get involved with OES so much.

Few months after asking a shop for an OES, there was a phone call from them.
We went to pick up the dog right away.
The owner of the shop, who is a judge for the Japan Kennel Club (JKC), said,
"This dog has a great pedigree and the dog is great, too. Why don't you take him out to the dog show?"
This was the starting point for our challenge at the dog show.
We didn't know anything. We didn't know the standards, couldn't manage its coats, and even haven't seen a dog be handled.
After appropriate advice from many people, starting with how to hold the lead to how to move the dog, we were able to participate in a dog show.




---
Teddyboy -Champions of Our Kennel -
CN Randyi‰jEEE'i'j'b@'b'g
Our first OES.
He taught us the pleasure of showing dogs.
There were so many difficulties to overcome to make him a champion dog, which makes him special.
We learned from the basics, learning the standards, taking care of his coat, and learning the difficulty of handling.
Randy taught us important fundamentals of what it takes to show a dog.

---
1996
The BEST of the Best of Breed
Pedigree Award Winning
'b'm Andyi‰jEEE'i'j'b@'b'g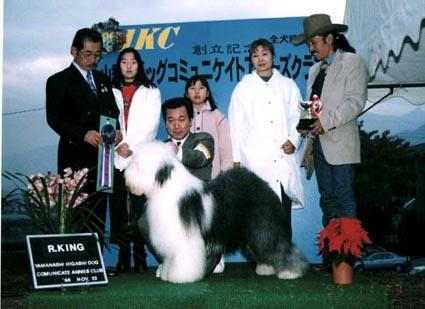 We had a chance to visit Randy's home, home of a breeder of OES for more than 30 years!
There we saw a splendid puppy, he was Andy. We knew he would be special.
---
SONG MARRY JP COTTON CANDY
CN CandyiŠjEEE'i'j'b@'b'g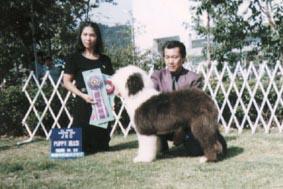 The first dog show challenge is a Puppy class ... called BIS.

Her bone structure and her movements were inherited from her father.
Her beautiful neck is from her mother.
She was a popular dog since she was a puppy.



---
2000
The BEST of the Best of Breed
Pedigree Award Winning



CN@Leaga i‰jEEE'h'm's.'i'j'b@'b'g
Date of Birth 1,April,1999

SIRE
@CH(AM) TO-JO'S MAKIN' IT EASY
DAM
@CH(AM) TO-JO'S THROW IN TH'HAT @@@@@@@@@
He made champion in just 14 months!!
---
JAMACDALE COSMOPOLITANEEEEFrom UK
CN Sammy(Šj
Date of Birth 18,December,2000

SIRE
@CH(ENG) LAMEDAZOTTEL KEEP COOL
DAM
@BARKBYBROOK CHARITY AT JAMACDALE
---
SONG MARRY JP SHANTY ON-CALL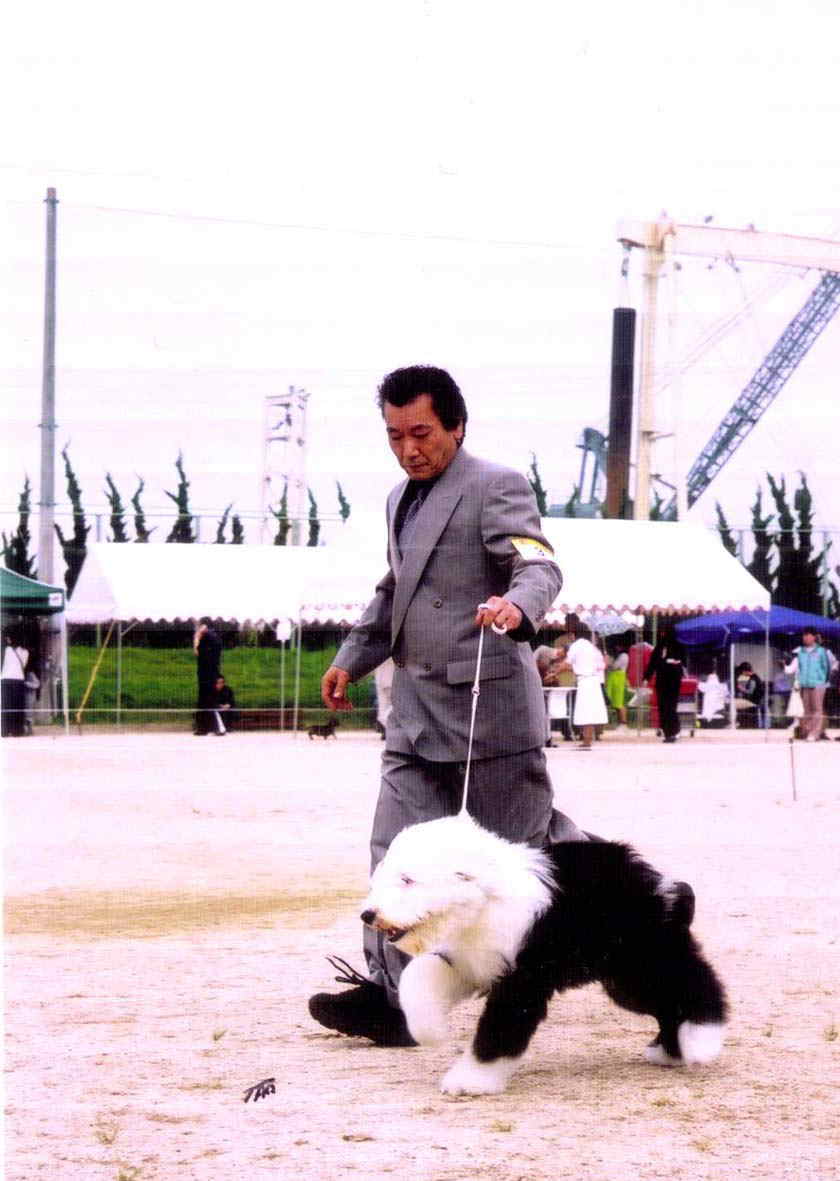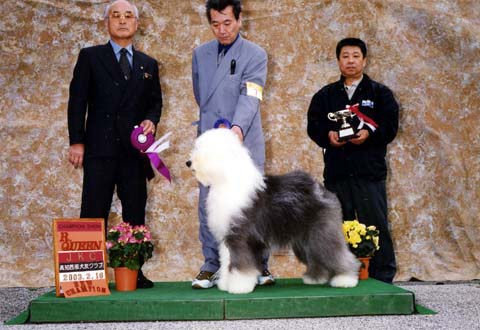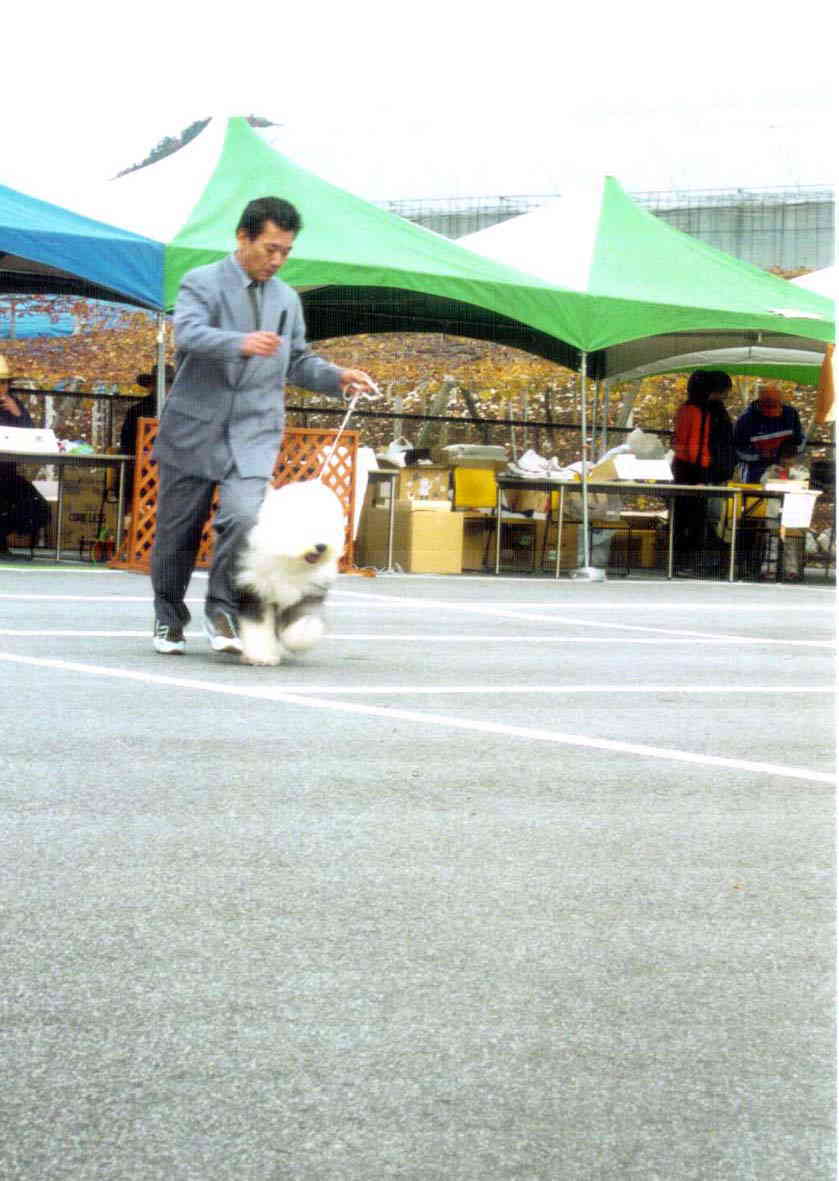 CN Shanty (Šj JKC CH
dete of birth 20.November.2001
SIRE Leaga
DAM Candy

---
OEEES EEE My Life and My Dream
Opinions and Comments? E-mail
---